Los jóvenes estudiarán en 10 destinos de Europa y América, siendo España el país que recibirá a cerca del 50%.
Con la presencia del Director de Relaciones Internacionales, René Lara, y el coordinador de Movilidad de Estudiantes, Gerardo Peralta, la Dirección de Relaciones Internacionales de la U. Mayor organizó un encuentro de pre-partida con aquellos estudiantes que participarán del Programa de Intercambio Estudiantil el primer semestre de 2019.
En total serán 103 jóvenes, quienes viajarán a Alemania, Brasil, Colombia, Costa Rica, España, Estados Unidos, Estonia, Italia, México y República Checa para realizar un semestre académico, pasantías de corta duración o trabajos remunerados.
El Director Lara detalló que será España el país que recibirá a la mayor parte de los futuros profesionales, al concentrar a cerca de un 50% de ellos.
"En la reunión se pudieron aclarar algunas preguntas esenciales de los estudiantes en relación al alojamiento, uso de cuentas bancarias en el extranjero, uso del seguro médico, la homologación de los cursos, entre otros. Además se entregaron consejos para afrontar el 'shock cultural' que provoca instalarse en otro país", comentó Gerardo Peralta, quien instó a los participantes a que "disfruten de su intercambio, saquen el máximo de provecho académico, viajen lo más que puedan y sean excelentes embajadores de la U. Mayor".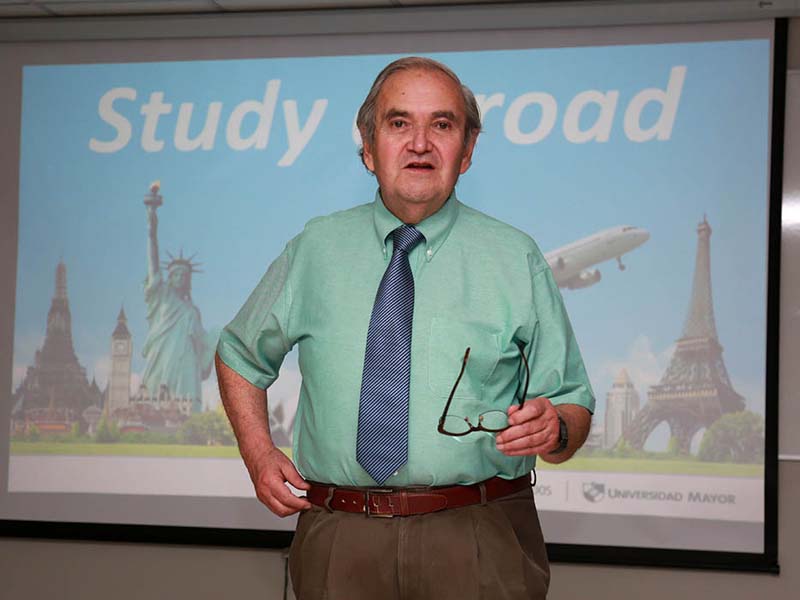 En tanto, el Director René Lara destacó que "en el siglo XXI, los temas más importantes en relación a la universidad son calidad y globalización de sus programas. Actualmente hay 4 millones de estudiantes que se encuentran en intercambio, los que mayormente se encuentran en Europa, Norteamérica, Australia y Asia. Solo un 3% se mueve en Latinoamérica".
En la oportunidad también se dio a conocer el programa "Chile Va Contigo", plataforma web que está creada y abierta a disposición de los chilenos que viajan al extranjero, y en la que pueden encontrar toda la información de la Red Consular de Chile, un buscador de consulados más cercanos e información de apoyo en caso de emergencias durante el viaje.
A la cita asistieron, además, tres "Embajadores de Intercambio" de la Universidad Mayor que ya realizaron experiencia internacional: Ítalo Giglio, egresado de Ingeniería Comercial (quien viajó al Tecnológico de Monterrey, sede Querétaro, en México); Natalia Plaza, estudiante de Pedagogía en Artes Musicales (quien realizó un intercambio de un año en Stenden University, Holanda); y Fernanda Guajardo, de Pedagogía en Inglés, quien estudió un semestre en The University of Montana (Estados Unidos).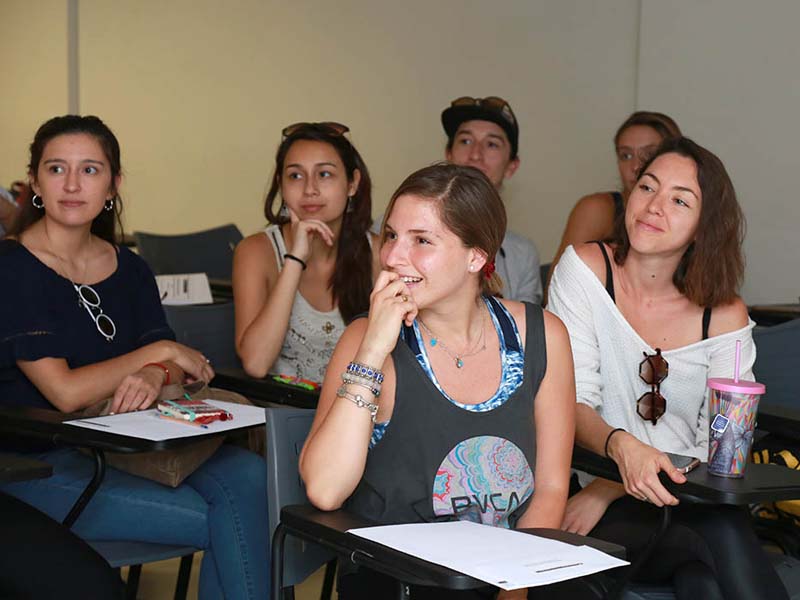 Gracias a la experiencia vivida, los embajadores pudieron dar respuesta a diversas consultas de estudiantes y apoderados.
En la Sede Temuco también se realizó la reunión pre-partida a intercambio, la que estuvo a cargo del Director de Asuntos Estudiantiles, Dr. Norman Moreno. "Durante la sesión se informó acerca de los lugares a los que llegarán a estudiar los seis estudiantes que viajarán desde Sede Temuco; datos académicos importantes, fotografías y tips para viajar en estas experiencias internacionales", detalló el directivo.
Revisa aquí las imágenes de la actividad.