Mayarí Castillo, Chiara Cazzuffi y Rodrigo Pérez, integrantes del Centro de Economía y Políticas Sociales, fueron elegidos para realizar un estudio sobre el impacto del programa Alianzas Productivas que es impulsado por INDAP con el objetivo de que pequeños productores accedan a mejores alternativas comerciales y nuevos mercados.
El equipo conformado por los investigadores del
Centro de Economía y Políticas Sociales (CEAS) de la U. Mayor
, Mayarí Castillo, Chiara Cazzuffi y Rodrigo Pérez, fueron los únicos ganadores chilenos del
 Proyecto "Strategies to Invest in Human Capital in Agriculture", que seleccionó su 
estudio que se focalizará en analizar los resultados del Programa Alianzas Productivas en Chile.  
El programa es financiado por el International Food Policy Research Institute (IFPRI), Food and Agriculture Organization of the United Nations (FAO) y Research Program on Policies, Institutions, and Markets (CGIAR).
Así, los académicos serán parte de una red de ocho estudios seleccionados a nivel mundial, que buscarán resultados replicables y escalables para sugerir políticas de intervención y mejoramiento del capital humano entre los productores agrícolas.  
Los resultados del estudio y de los casos seleccionados serán presentados a finales de 2020 en un evento mundial en Roma que contará con la presencia de múltiples actores políticos, investigadores y personal de organismos internacionales y de gobiernos.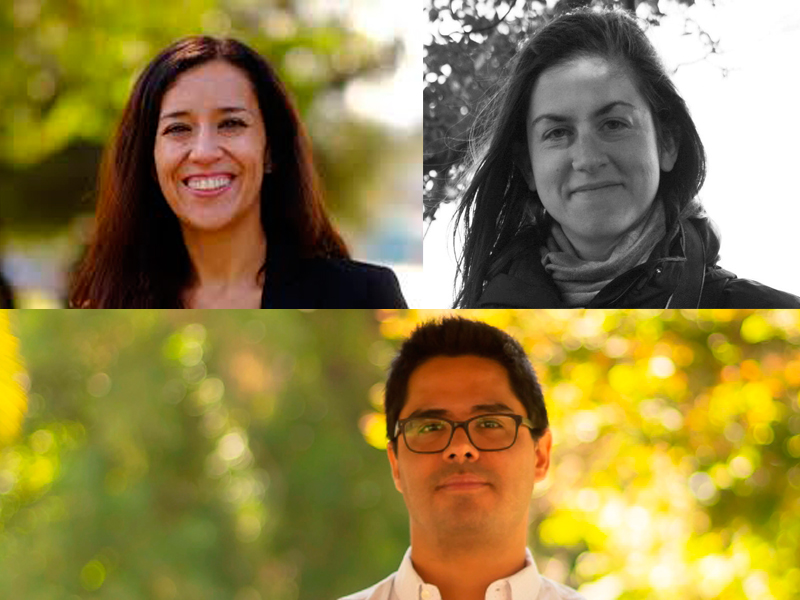 En la foto, Mayarí Castillo, 
Chiara Cazzuffi y Rodrigo Pérez
Alianzas Productivas 
El programa Alianzas Productivas es impulsado por el Instituto de Desarrollo Agropecuario de Chile (INDAP) y busca generar condiciones para que los pequeños productores agrícolas accedan a mejores alternativas comerciales y nuevos mercados, a través de la capacitación y de la generación de alianzas entre estos pequeños productores y grandes actores y compañías de la cadena agrícola. Actualmente beneficia y articula la participación de más de 3.500 agricultores familiares y 50 grandes compañías agrícolas.  
"En su parte más sustancial, y además del uso de información secundaria de base que permite la caracterización de los participantes en el programa, el estudio realizará entrevistas y encuestas a pequeños productores agrícolas, grandes compañías, empresas de capacitación técnica y actores claves dentro del Ministerio de Agricultura y de INDAP, para conocer principalmente los efectos de la participación en este programa en el bienestar de los pequeños productores", explica Rodrigo Pérez, investigador de CEAS. 
Los investigadores también buscarán conocer cómo se articulan estas alianzas y relatar las experiencias, desafíos y otras características relevantes del programa, para rescatar experiencias exitosas y replicables tanto a nivel nacional como para promover su implementación en otros países del mundo.