Realizada este 1 de octubre, la jornada fue protagonizada por los académicos Andrew Beckerman (University of Sheffield) y Pablo Cortés (U. Mayor), quienes ofrecieron una introducción a estudiantes de pre y posgrado en torno a la utilización de "R", una conocida herramienta de programación y análisis estadístico.
Con la participación de 23 estudiantes de pre y postgrado, además de académicos de diferentes casas de estudio, se llevó a cabo este 1 de octubre el taller internacional "Data management and reproducible research for biological and environmental sciences", el que se desarrolló en el campus Alonso de Córdova.
Organizado por el Magíster en Medio Ambiente y Desarrollo Sustentable, con apoyo de la Escuela de Ingeniería en Medio Ambiente y Sustentabilidad, esta jornada estuvo dirigida a estudiantes que quisieran tener un primer acercamiento al manejo y análisis de datos e investigaciones reproducibles asociadas a ciencias ambientales y ecosistemas.
Todas estas competencias son altamente demandadas por el mercado laboral de hoy, tal como lo señala Claudia Snatibañez, directora de la carrera Ingeniería en Medio Ambiente y Sustentabilidad:
"La importancia del manejo de datos en temas ambientales ha pasado a ser altísima en el último tiempo. Así, la utilización de herramientas de big data ha permitido avanzar en diversas políticas relacionadas con temas tales como las emisiones de gases de efecto invernadero, exposición a riesgos climáticos y conflictos socio-ambientales relacionados con los efectos del calentamiento global".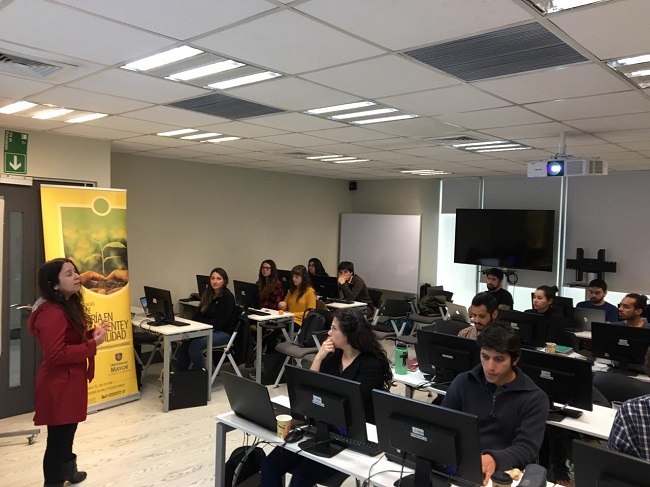 Así, la herramienta vista y puesta en práctica fue "R", un conocido lenguaje de programación y análisis estadístico que fue enseñado a los estudiantes de la mano de los académicos y PhD`s Andrew Beckerman, docente de la University of Sheffield, y Pablo Cortés, quien es académico de la Universidad Mayor en las carreras de Agronomía, Ingeniera Forestal e Ingeniería en Medio Ambiente y Sustentabilidad.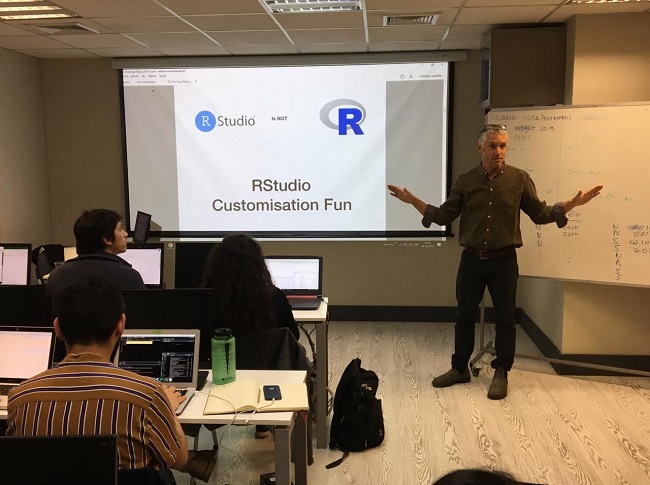 Cabe destacar que ambos académicos cuentan con un vasto curriculum asociado al manejo de datos y ciencias ambientales: mientras el Dr. Cortés ha sido académico de métodos estadísticos tanto en la Universidad Andrés Bello como en la Universidad Mayor, el Dr. Beckerman es un biólogo evolutivo que lleva más de 20 años utilizando "R", además de ser autor del libro "Getting started with R: An introduction for Biologists".
Por último, y al finalizar la jornada, Santibáñez reforzó la posibilidad que brinda la unión entre nuevas tecnologías y protección del medio ambiente: "Los avances, que van desde imágenes satelitales que dan cuenta de los avances del cambio climático en las últimas décadas, hasta herramientas que permiten rastrear las grandes cantidades de plásticos acumulados en los océanos, han dotado de una importante cantidad de información que requieren manejarse para la adecuada toma de decisiones respecto de procesos productivos que generan contaminación al ambiente o las malas prácticas en la industria, por ejemplo".